Sourdough Pizza on Christmas Eve
Submitted by
texasbakerdad
on December 30, 2020 – 7:52am.
Christmas has been busy with activities so far. I am trying to stay disciplined and post my bakes, because I am finding the posts useful when I am trying to plan future bakes. I am going to post 3 blog posts today with the different bakes over Christmas I want to keep notes on.
Unfortunately or fortunately depending on who you ask, I am short on time this morning, so I will try to keep the posts brief.
Recipe:
100g Spelt
200g Hard Red Wheat
1100g AP
120g starter (8.5%)
35g salt (2.5%)
70g Honey (5%)
980g Water (70%)
Process:
Mixed dough the night before to shaggy mess leaving out the starter, waited 10 minutes
Smeared starter over top and worked into dough, kneading very lightly, just enough to evenly distribute the starter
Let dough to ferment on counter for 1 hour then stretched and folder 4 or 5 times and then stuck it in the fridge to retard the fermentation.
In the morning, about 9am, pulled out of fridge and set on counter.
Stretch and folded every hour until about 3pm.
3pm, preshaped, then waited 15 min.
Shaped into pies in 3 stages, with 5 minute rests in between to let gluten rest. 1st stage, slightly flatter than an english muffin. 2nd stage, thick 8 inch pies, last stage 10-12 inch pies. (I didn't really rest 5 min, I had 9 pies, so I would do each stage on all 9 pies and then start back over on the first for the second stage, probably more like 2-3 minutes).
Topped and loaded into oven 450dF for about 12 minutes (non-convection).
Notes:
My dough was lumpy, I didn't understand why until I made the same mistake 4 days later while making bread bowls. I poured honey directly onto my flour and it solidified into little balls that had to be hand smooshed… I should have dissolved he honey into the water first, or at least added the honey on top of water instead of dry flour.
The pizza and crust was amazing with regards to taste, and rise, and crumb, and cornicione. But, many times I have made pizza, I have been able to throw the pizza in the air to shape, I find that process so much fun, AND, when the dough is like that, the kids can shape the pizza without having to worry about messing it up. Once again, this dough was too difficult for a kid to work with. I need to figure out what I can do differently to make the dough easier to work with. On this bake, I was hoping the reduction of hydration to 70% and the addition of spelt would have gotten me there, but it did not, those changes definitely helped, but not enough. Maybe I will try an even lower hydration next time. I am open to advice on this.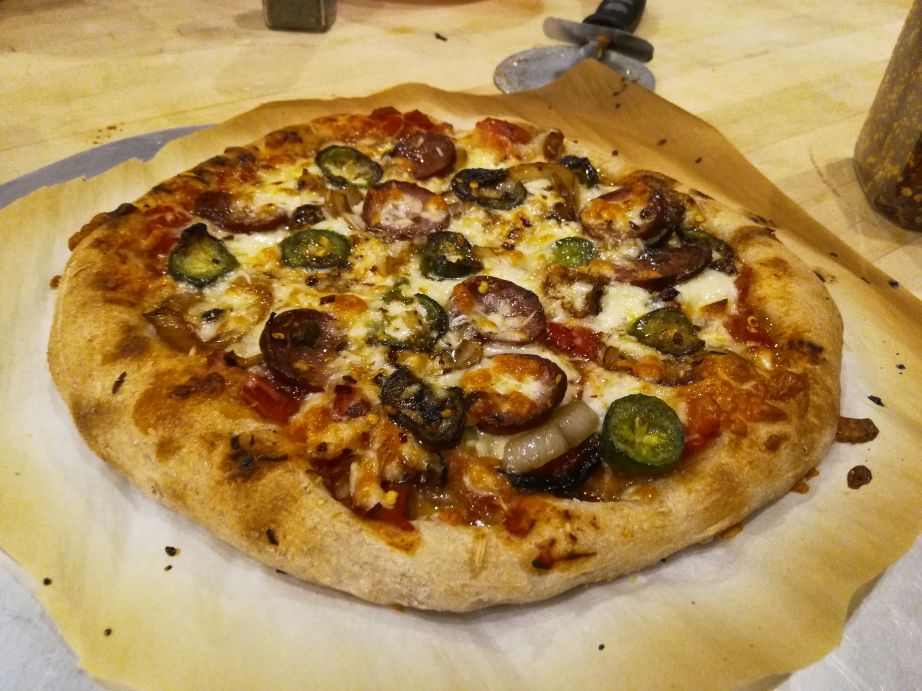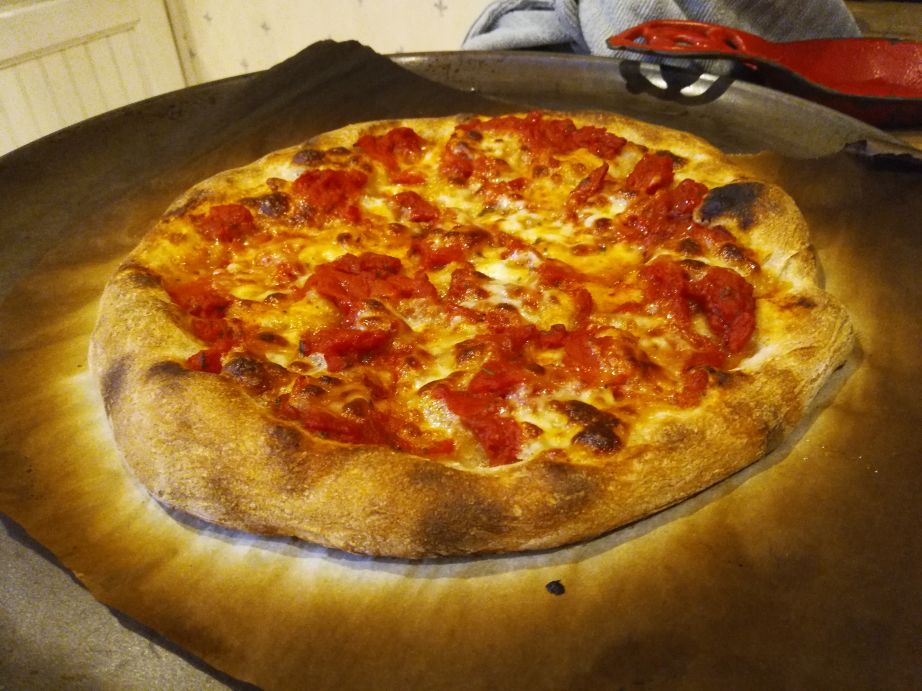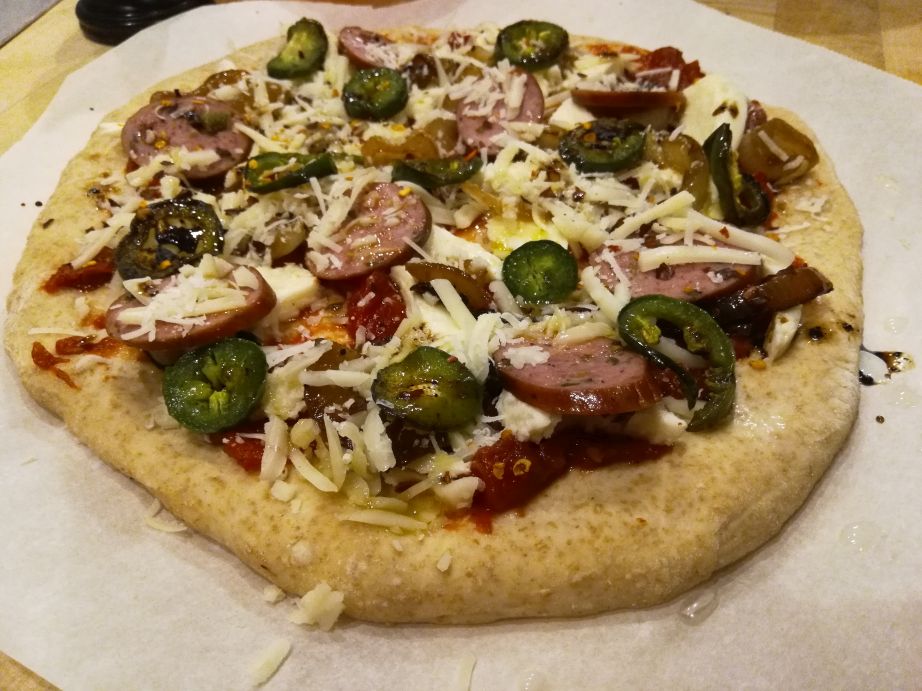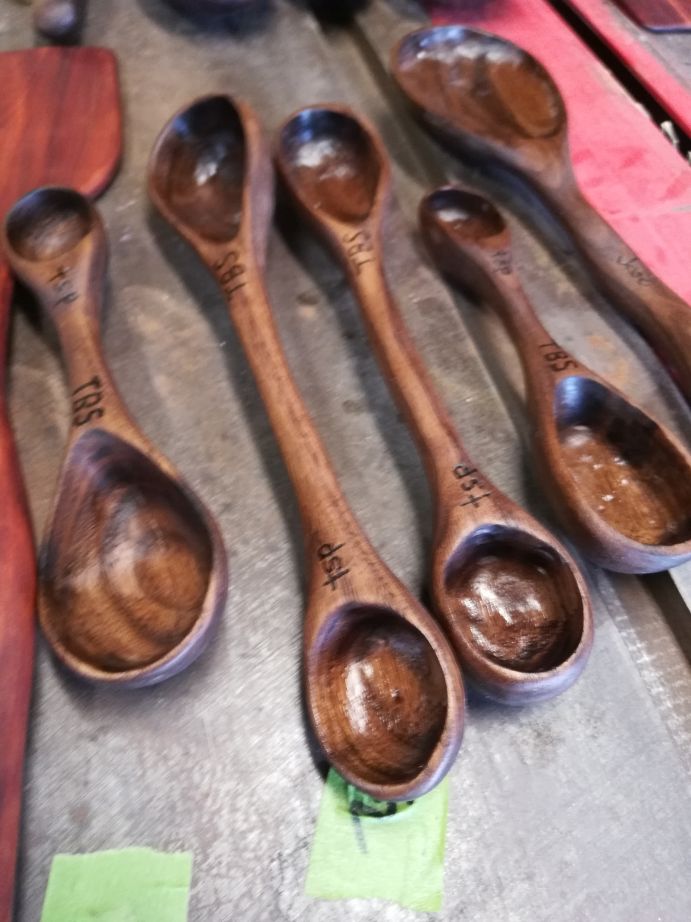 Just showing off some Christmas gifts I made.