Tartine Flax and Sunflower Sourdough
Submitted by
Bread1965
on March 12, 2021 – 9:23am.
I had a friend make this recently. He had trouble with the dough being too slack and this loaf ended up dense. I thought I'd make it to figure out where he might have lost his way. I soon realized it wasn't him. There's a problem with the recipe IMHO. While making the dough I googled and realized many others struggled with this recipe. It calls for seed additions that are excessive and much too much water in the seed soaker. For a 500g loaf it's asking for about 145g of flax that's soaked in water twice that amount. That's a 30% seed addition. And it calls for another cup of toasted sunflowers – another 30%. And that's on top of a 70% whole wheat to bread flour blend with 80% water (not counting that added to the flax). Clearly a challenging bake!
Mixing that much goopy soaked flax and sunflowers was a problem so I ended up adding a cup of rolled oats (to soak up the moisture – thanks Mini, you mentioned that on a previous post for this bread) and an additional 100 grams of bread flour!
That makes my final mix 350g whole wheat flour, 250g bread flour, 400g water, 150g flax soaked in 300g boiling water, 150g toasted sunflower seeds and a 150g rolled oats!
I ended up realizing that i should make these bread pan breads. I opted to bake one late that night and the second in the morning after a retard in the fridge. The first loaf was a bit gummy, had a poor rise and wasn't very flavourful. The second loaf was actually quite good with an amazing aroma and flavour.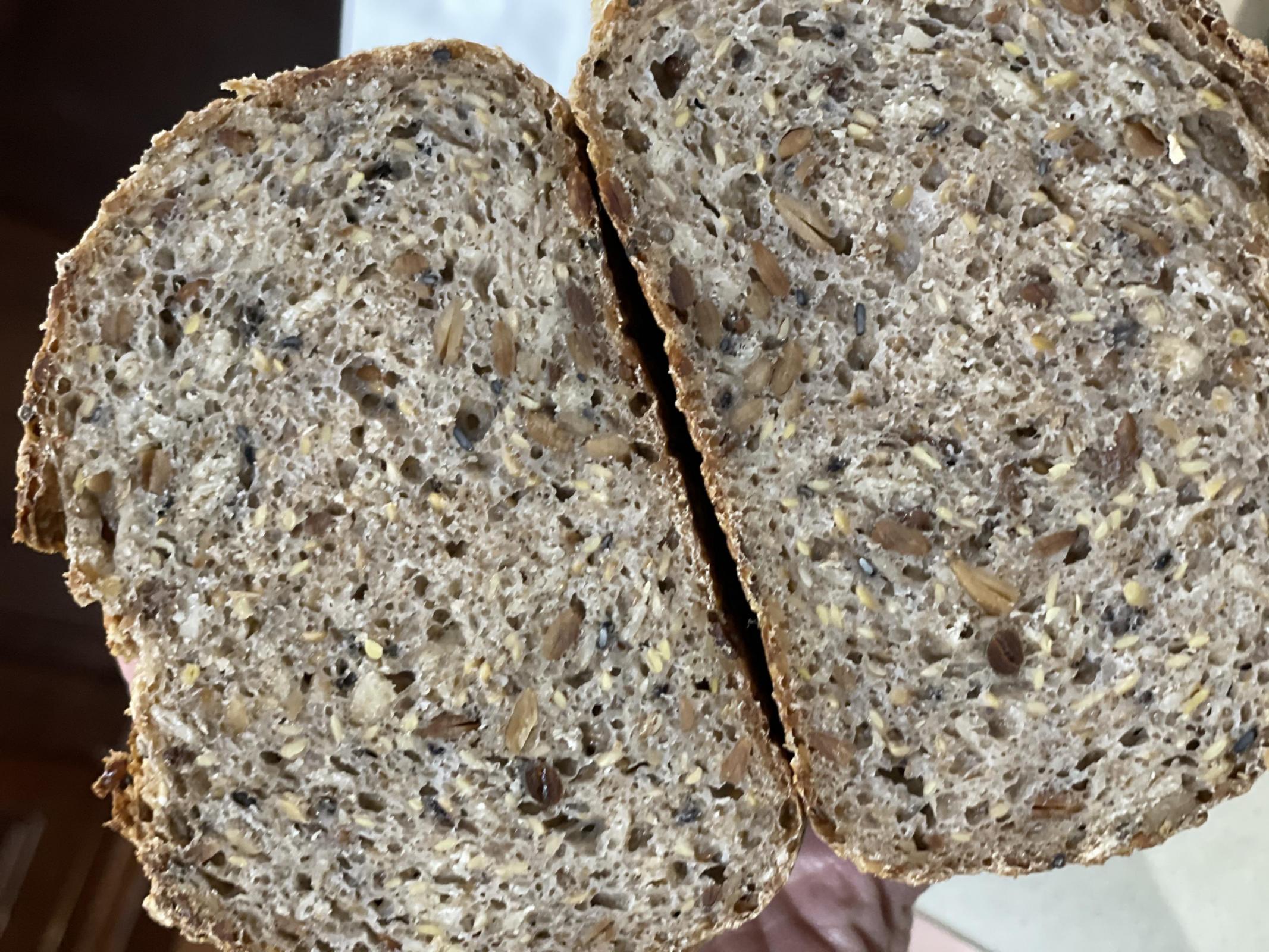 I've read people suggest you drain the flax seed after being soaked, but that's not an option as it turns into a gel.  If anyone's made this bread exactly as written in the recipe let me know. Thanks..