The foundation of classic artichoke dip is basically the following: a can of artichokes (drained & chopped), a cup of mayonnaise, and about a cup of freshly grated Parmesan cheese. The ratio might be slightly different depending on the cook, but many recipes for artichoke dip build on this adding garlic and other seasonings from there. My take-away? That's a lot of mayo. Some recipes use an even higher ratio. The version I make hits all the crowd-pleasing notes of the classic version, but it cuts way back on the mayo-bomb aspect. Guess what? No-one can tell the difference.
I still use a bit of mayo, but incorporate some silken tofu and greek yogurt. I also up the ratio of artichokes to creamy ingredients. You still get indulgent goodness of the original, but this version puts the artichokes back up front, delivers some protein with the tofu and yogurt, and still retains the spirit of the party dip few of us can resist. So let's get into the specifics.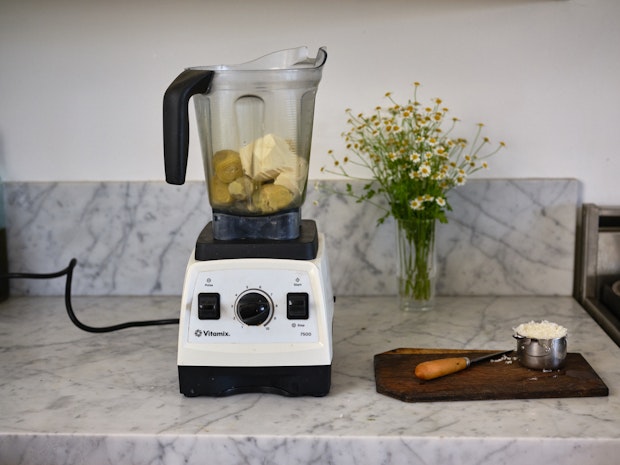 Smooth versus Chunky Artichoke Dip?
There is some debate regarding which is better – chunky or smooth artichoke dip? I prefer smooth. A quick pulse in a blender, food processor, or with a hand blender brings things together into a base that bakes up extra creamy. I've also found that kids tend to like the smooth version best. Probably because there is nothing identifiable as offensive in there. Laugh / cry. But if you like a bit more texture simply use chopped artichokes and skip the blending stage, or just go super easy on it.
Canned versus Frozen Artichokes?
Frozen artichokes are getting increasingly easy to find and, generally speaking, I like their flavor more than the water-packed canned artichokes. It's kind of like the difference between canned corn and frozen corn. There's no contest, frozen corn is going to be the winner every time, right? That said both canned and frozen artichokes work great for this recipe. I used jars of artichokes for the photos here and it was delicious as ever. The main thing is to aim for roughly one pound of artichokes – each jar or can usually yields about 1/2 pound of artichokes once they've been drained.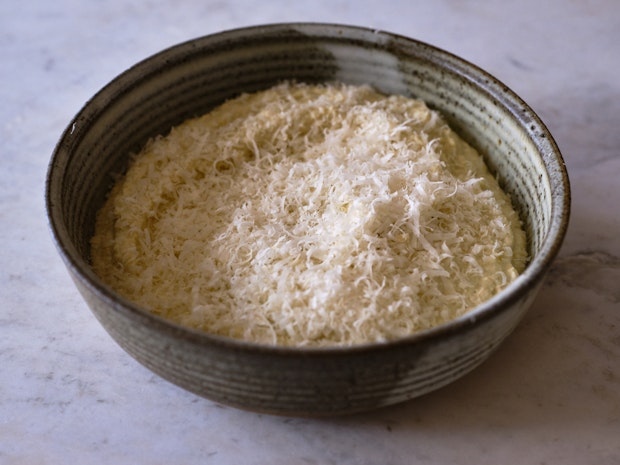 Artichoke Dip Goes Great With…
The key here is crunch. Artichoke dip is creamy magic best scooped onto your favorite crunchy snack staples. For example:
Toasted Homemade Pita Chips
Toasted baguette slices rubbed with garlic
Seeded crackers
Crudités'
Tortilla chips or fresh tortillas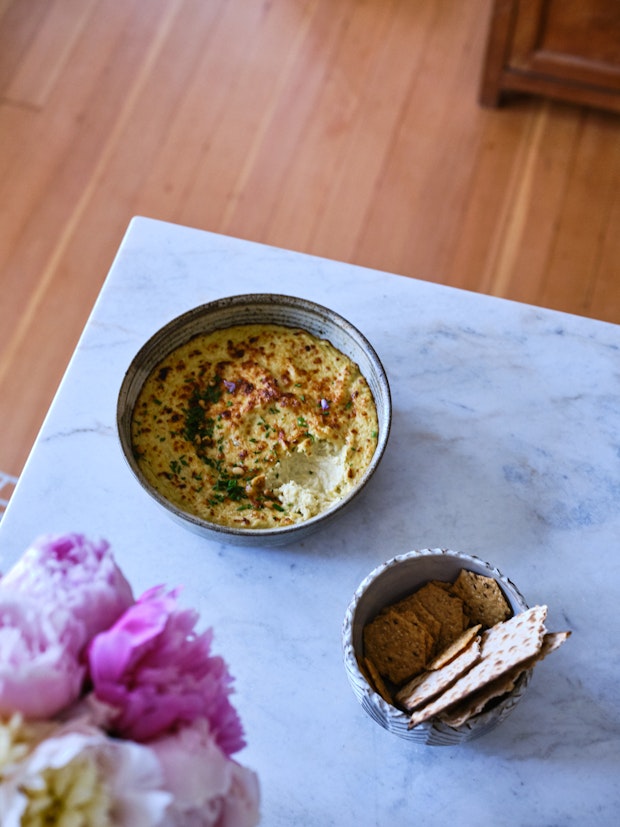 Put it on Everything!
i alway regret not making more artichoke dip while I'm at it. At the very least a double batch. There are just so many fantastic ways to put it to use. If you make extra you've got a great component to slather on everything. Stop thinking of it as a dip and reframe it as a spread or stuffing. Especially this version. Here are a few ideas to get you started.
Slathered across good pizza dough before baking. I especially love this for a spring-summer pizza with ingredients like fava beans, asparagus, and artichoke hearts. Dollop with a bit of great pesto or citrus paste just before serving.
Use leftovers as a dumpling or ravioli filling.
Dolloped on hot baked potatoes or baked sweet potatoes. Finish with something extra crunchy like fried shallots, sesame seeds or toasted almonds.
Seems obvious, but worth saying, it makes an incredible panini or sandwich spread. Even better on your veggie burger.
Taco Night! A slather on a homemade tortilla just before adding your other fillings is a thing of beauty.
It's great as a replacement for ricotta in stuffed shells. Or you could go half and half. Throw some citrus zest in there while you're at it.
Up your deviled egg game! Stir any leftover dip into your deviled egg filling, it's an unexpected twist on classic deviled eggs.
Use it as a slather on bruschetta. Top with lots of chives and pine nuts.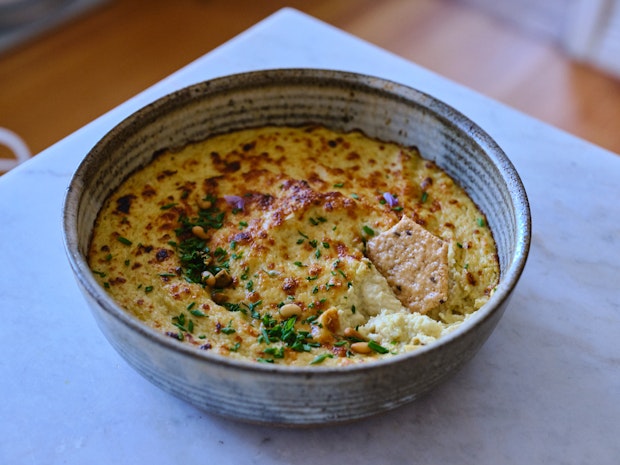 Artichoke Dip Variations
There are so many ways to tweak this recipe. Here are just a few ideas.
Spinach Artichoke Dip

– add a cup of well-chopped spinach (or frozen spinach) to your artichoke dip. You can add it to the blender ingredients, or you can stir it in later with the Parmesan cheese. The later leaves the spinach flecks visible for a classic spinach artichoke dip result.

Spicy Artichoke Dip

– I already call for 1/4 teaspoon of cayenne powder in this recipe and that delivers a bit of bite. That said, you can swap in other spicy flavor profiles if you like. Start by swapping

 

in a tablespoon or so of any of the following, and adjust from there with more to your liking: green curry paste, green harissa, or zhoug.

Artichoke Dip Finished with Indian Tempering Spices

– This is absolutely delicious. If you toast

 

a handful of curry leaves in a couple tablespoons of olive oil and then add mustard seeds, a bit of cumin, chopped garlic, and some extra crumbled dried chile you'll have an incredible finishing oil. Pour, hot from the skillet, over the golden-baked artichoke dip just before serving.

Artichoke Dip with Garlicky Breadcrumb Topping

– I usually finish this dip with a simple dusting of grated cheese. But if I'm feeling a bit more ambitious, I'll pile a generous amount of day-old bread crumbs that I've tossed with lots of olive oil, minced garlic, and the grated cheese. It results in the perfect crunch top to counter the dippy smooth and creamy.
One last thing – this is actually a great do-ahead recipe. You can bake it off in any sized dish you like and the smell of the baking artichokes and toasting cheese provides a deliciously fragrant backdrop to any get together. Pop the artichoke dip into the oven roughly half an hour before friends come over, just in time to welcome everyone!
Continue reading Baked Artichoke Dip on 101 Cookbooks