Brown butter and a sprinkle of flaky sea salt make these Brown Butter Chocolate Chip Cookies every bit as delicious as a fancy bakery cookie. You won't believe you were able to make them at home! 
Like so many people, I downloaded TikTok last spring as everything was shutting down. It offered a bit of entertainment during a very unsettling time. And along with my friend Stephie and Joshua Weissman, it taught me how to make one hell of a loaf of sourdough bread.
I was all-in and even bought a fermentation station – if you know, you know.
Over a year later, I still love TikTok and if I'm being honest, my FYP is pretty much loaded with food and beauty content. I love finding simple recipes to make for dinner while learning which new highlighter is all the rage.
Many months ago, I stumbled upon a recipe for Brown Butter Chocolate Chip Cookies and I could not get them off my mind. Although I didn't save the recipe, I did remember that the creator used the recipe for Tasty's Chewy Chocolate Chip Cookies, but browned the butter first.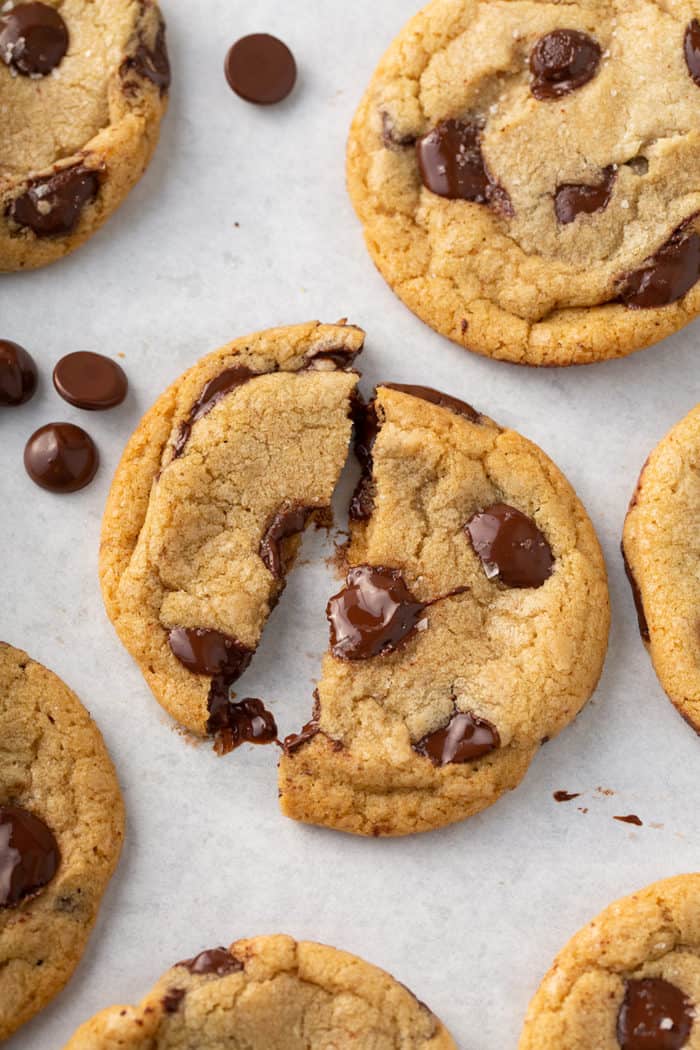 And let me tell you, this creates one magical cookie. 
If you've been around here for any amount of time, you know that my favorite chocolate chip cookie recipe is the New York Times Chocolate Chip Cookies. But not everyone wants to go purchase cake and bread flours to make a cookie recipe. 
And not everyone has 24 hours to let the dough chill.
These Brown Butter Chocolate Chip cookies are right up there with the New York Times Chocolate Chip Cookies and a few of my friends think they're even better! They're super simple to make and don't require special ingredients, or a 24-hour chill time. 
The post Brown Butter Chocolate Chip Cookies appeared first on My Baking Addiction.