I have two new cookbooks on my desk. Two books to really dive into. Tender V.1 by Nigel Slater, and How to Cook Indian by Sanjeev Kapoor. Today's Cucumber Peanut Salad was my first foray into Sanjeev's book and it doesn't disappoint – chopped cucumbers, spices, toasted peanuts, coconut, and green chiles come together in a refreshing but surprisingly substantial salad.
A Special Cucumber Salad
After my book signing in Berkeley recently, I was invited by the shop to choose and take home any book I liked. How to Cook Indian was it. I tucked the massive orange Indian volume under my arm, went home, and spent hours the next morning tagging recipes – so many! Today's cucumber salad was one of them. I took a few liberties with it based on personal preference and the ingredients in my kitchen. I mean, that's how I approach many recipes. I don't always have all the ingredients on hand, but I try not to let that deter me. Instead of trying to get thing perfectly "authentic" or as written, I like the spirit of winging it a bit, based on what I think will taste good within the general framework of a recipe.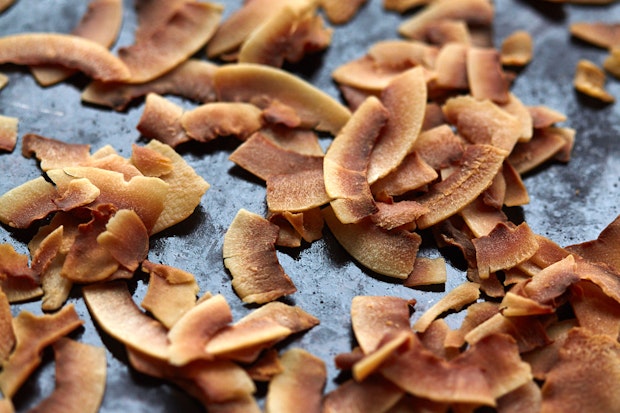 That's what you see here. So, for this cucumber salad – I didn't have the fresh coconut Sanjeev calls for, but I did have big, dried coconut flakes. I knew I could toast them, and they'd be great- so I went with it. I like to leave some of the peel on my cucumbers – so that is what you see here. That sort of thing. If like me you I forgot to grind the peanuts, whole peanuts are great here too.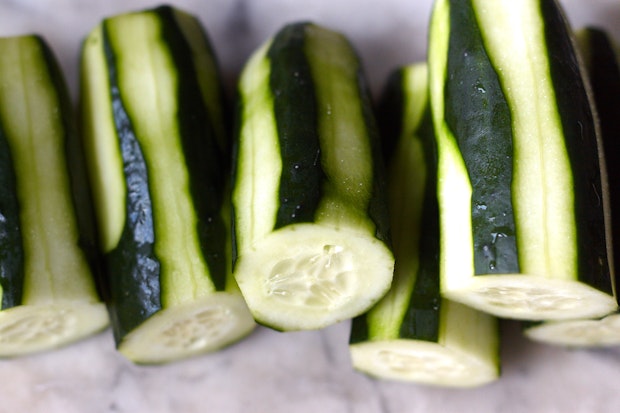 What Kind of Cucumbers Should I Use?
You have options! I grow multiple types of cucumbers in our garden. Favorite varietals for a cucumber salad like this include Japanese cucumber, lemon cucumber, Persian cucumber and English cucumber. Select cucumbers with healthy looking skins, and a plump, tense feel overall. You don't want limp, sad, dehydrating cucumber. A long way of saying that choosing a great cucumber can be more important than the type of cucumber.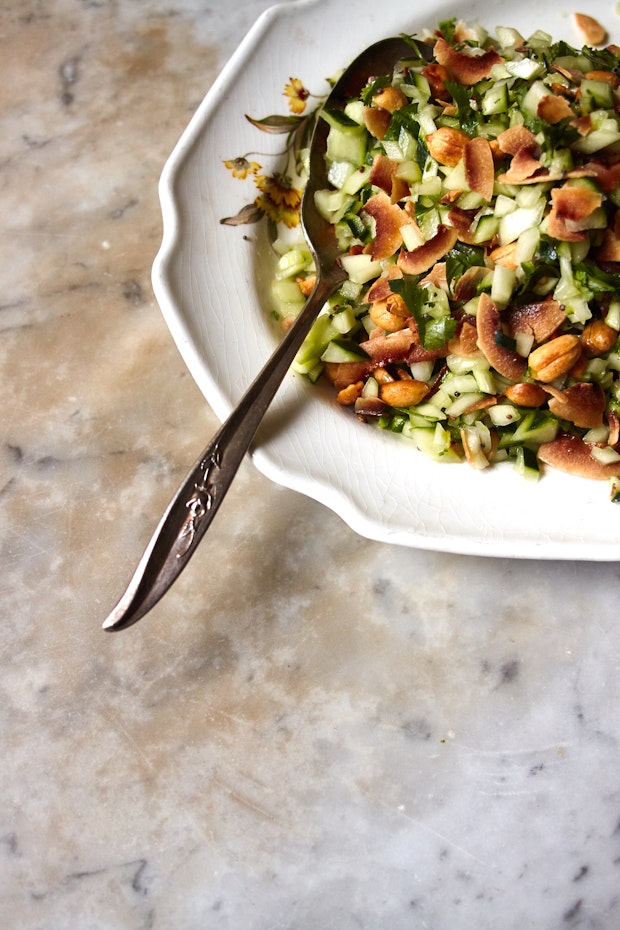 The perfect salad for a hot summer day. Pair this cucumber salad with whatever you have coming off the grill, it goes beautifully with so much. We've enjoyed it alongside kebabs, grilled quesadillas, veggie burgers, and tofu burgers.
Continue reading Cucumber Salad on 101 Cookbooks