I thought we could welcome spring with one of my favorite recipes from Near & Far. It's the perfect lunchy, brunch dish, and it's made with fregola. Fregola is a beautiful, tasty Sardinian pasta made from hard durum wheat flour – rolled, sun-dried, and toasted to a mix of shades of yellow, gold, and brown. The pasta is rustic and nutty, each grain with a raggy surface adept at catching flavor. It's so good.
Let's Make Something with Fregola!
Toss the fregola with ribbons of endive, toasted hazelnuts, capers and basil, and you have a salad that is a little bit nutty, a hint briny, herbaceous, and filling. I tend to make this during shoulder seasons. As spring evolves into summer, or as summer shifts into fall — tweaking the herbs based on what is available and vibrant. It's also amazing with roasted cherry tomatoes mid-summer. A long way of saying that it's hard to go wrong here.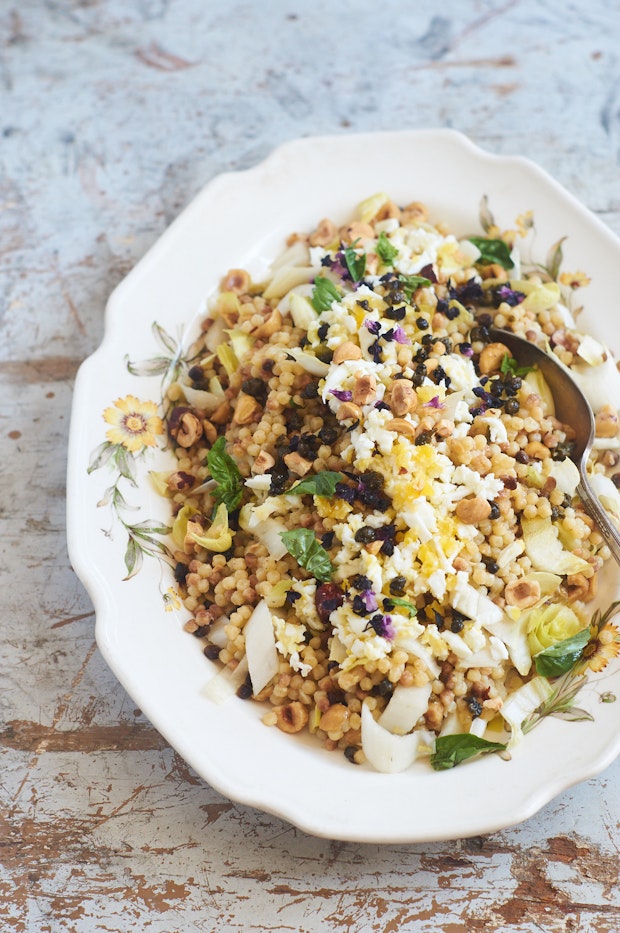 It's worth sourcing fregola if you can. That said, this is also great using orzo pasta, or Israeli couscous. I like the grip of the fregola, but sleeker orzo is always a crowd pleaser. if you're looking for other pasta ideas, here are all my favorite pasta recipes. This homemade cavatelli is super fun, and you can never go wrong with homemade pesto. Enjoy!
Continue reading Fregola Sarda, the Perfect Lunchy Brunch Dish on 101 Cookbooks