There are two main reasons people love this coffee cake. First, the streusel topping doesn't skimp. There's plenty piled on for the crumble fans. Second, it's wonderfully rustic and full of freshly baked flavor. There are a lot of coffee cake recipes out there that are beautifully cinnamon-streaked and sweet, but I like a bit more depth and range of ingredients in my buttermilk-based batter. Rye flour, old-fashioned oats, and brown sugar are my secret weapons here.
This is a great cake to go along with an afternoon espresso and chat with a friend. Or to take on a picnic or day in the car. It's a stunner of a cake without being fussy. The blueberries burst and bleed into the crumb of the cake in dramatic fashion. The crumble crust plays off the tenderness of the cake nicely, so be sure to get a bit of it in every bite.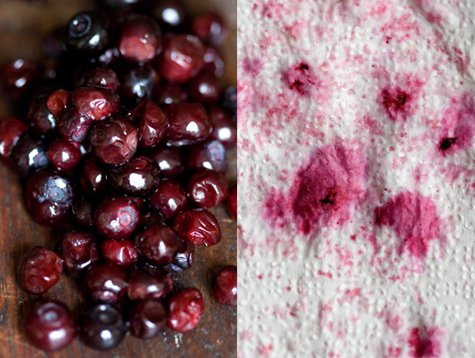 Favorite Coffee Cake Variations
Maple Huckleberry Coffee Cake: This has long been a favorite variation of mine. I like to add a bit of thyme and rosemary from my herb garden. Just a hint to play off the berries and perfume the cake – barely a whisper.  Swap in whole wheat pastry flour for the rye flour. And Add 1/4 teaspoon chopped fresh thyme and 1/4 teaspoon chopped fresh rosemary. Lastly and the zest of one lemon to the dry ingredients of the cake. And if you can get your hands on wild huckleberries trade those in for the blueberries
Cherry Almond Coffee Cake: It's cherry season right now, feel free to swap out the blueberries for chopped (pitted) cherries. Use chopped almonds in place of the walnuts, and almond extract in place of vanilla extract if you have it.
Michelle in the comments used chopped mission figs in hers, a brilliant idea. Generally speaking, on the fruit front, if it's juicy, fruity, and goes with maple I suspect it'll be good here, so play around.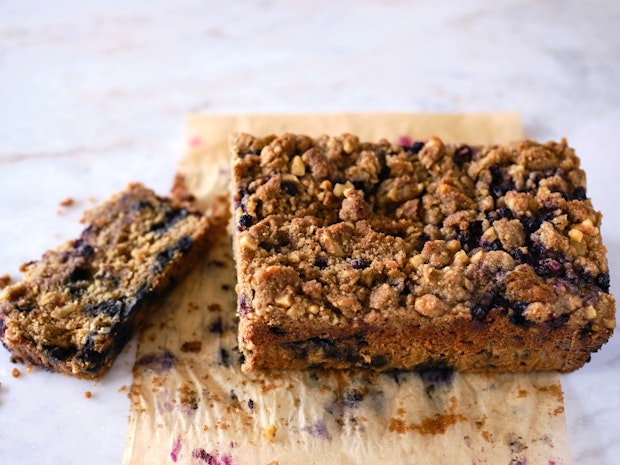 How to Store this Cake
I like to enjoy this cake warm, or at room temperature. That said if you have leftovers after a day or so I tend to slide it right back into the pan on its parchment paper, cover, and refrigerate from there for up to 4-5 days. Bring up to room temperature before eating or pop it a hot oven to reheat for ten minutes or so.
Continue reading Heidi's Coffee Cake on 101 Cookbooks