No-Bake Chewy Oreo Bars are dessert bars that are made with a mixture of chopped Oreo cookies, mini marshmallows, and butter. Try my Oreo Rice Krispy Bars for another no-bake Oreo treat!
No-Bake Oreo Bars
Have you ever had a Rice Krispy bar? These are Rice Krispy bars without the Rice Krispies.

They are so easy to make, it would be a great recipe to get your kids involved. In addition, it's a simple recipe to throw together for a potluck or anytime you need to bring a dessert or treat to share. The bars are made with just three ingredients and it is a no-bake dessert, so there is no need to turn on the oven!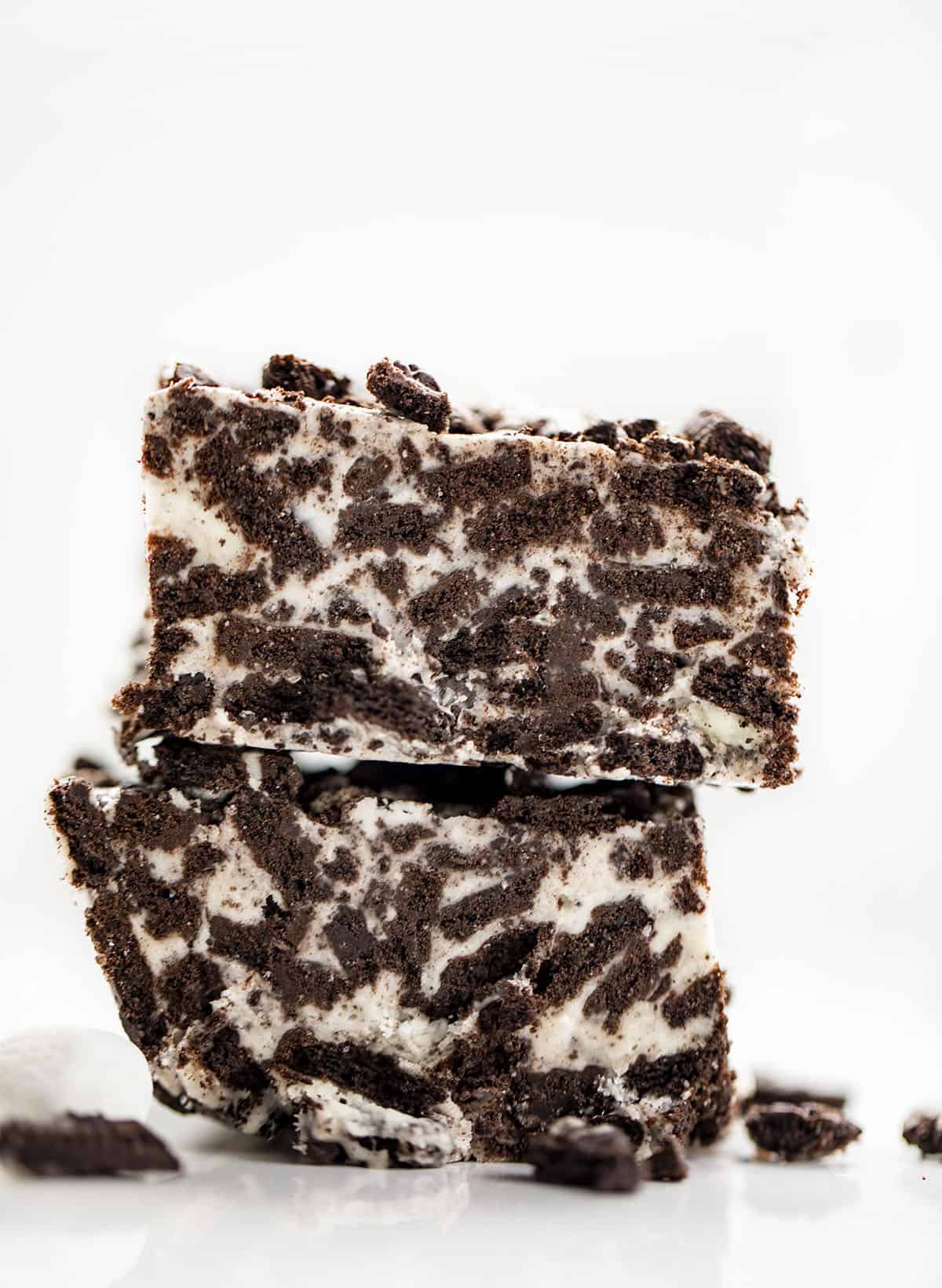 Oreo Bar Ingredients
As I stated above, this recipe is made with just three simple ingredients! 
Oreos: I went with the double-stuffed Oreo cookies in this recipe and chopped them up with a knife, filling and all. Crushing them or using a blender would have made the pieces too fine. (But, if you wanted smaller crumbs in the bars, you could still add bigger chunks of Oreos on top.) You could also use regular stuffed Oreo cookies or a combination of the two. 
Marshmallows: I used a 10.5-ounce bag of mini marshmallows. If you use regular-sized marshmallows, you would need approximately 40 of them to equal the bag of mini marshmallows.
Butter: Use salted butter that is at room temperature.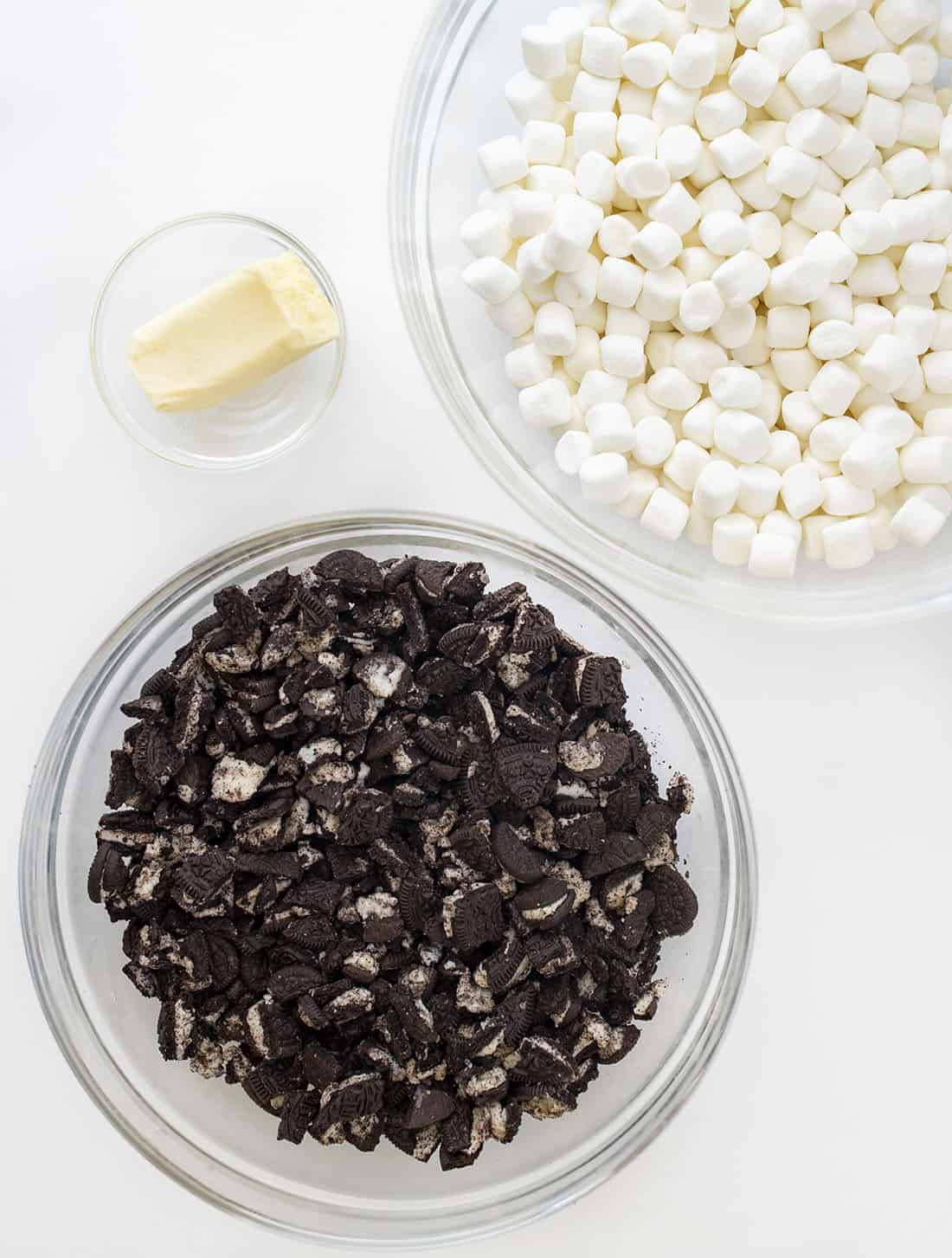 How to Make Oreo Bars
Have I mentioned how easy these dessert bars are to make? Just three ingredients and a microwave oven are all you need. To make the bars, first, chop up the Oreo cookies with a knife or by hand. I wanted bigger chunks of cookies in my dessert.
Once the cookies are chopped, set them aside. Then, in a microwave-safe bowl, combine the marshmallows and butter. Heat up the ingredients in the microwave in 30-second increments, stirring in between, until melted. This usually takes a total of 2 minutes.
After the marshmallows and butter are melted, add most of the chopped Oreos to the mixture. (Reserve about 1/4 cup of the cookies for the topping.) Stir in the cookies and immediately pour the mixture into an 8×8-inch baking dish that has been sprayed with nonstick cooking spray or lined with parchment paper. Work quickly or the mixture will become too sticky.
Top the bars with the reserved Oreo cookie pieces. Place the pan into the refrigerator for at least 2 hours, or up to overnight before cutting and serving. Store the bars at room temperature, in an airtight container, for up to three days.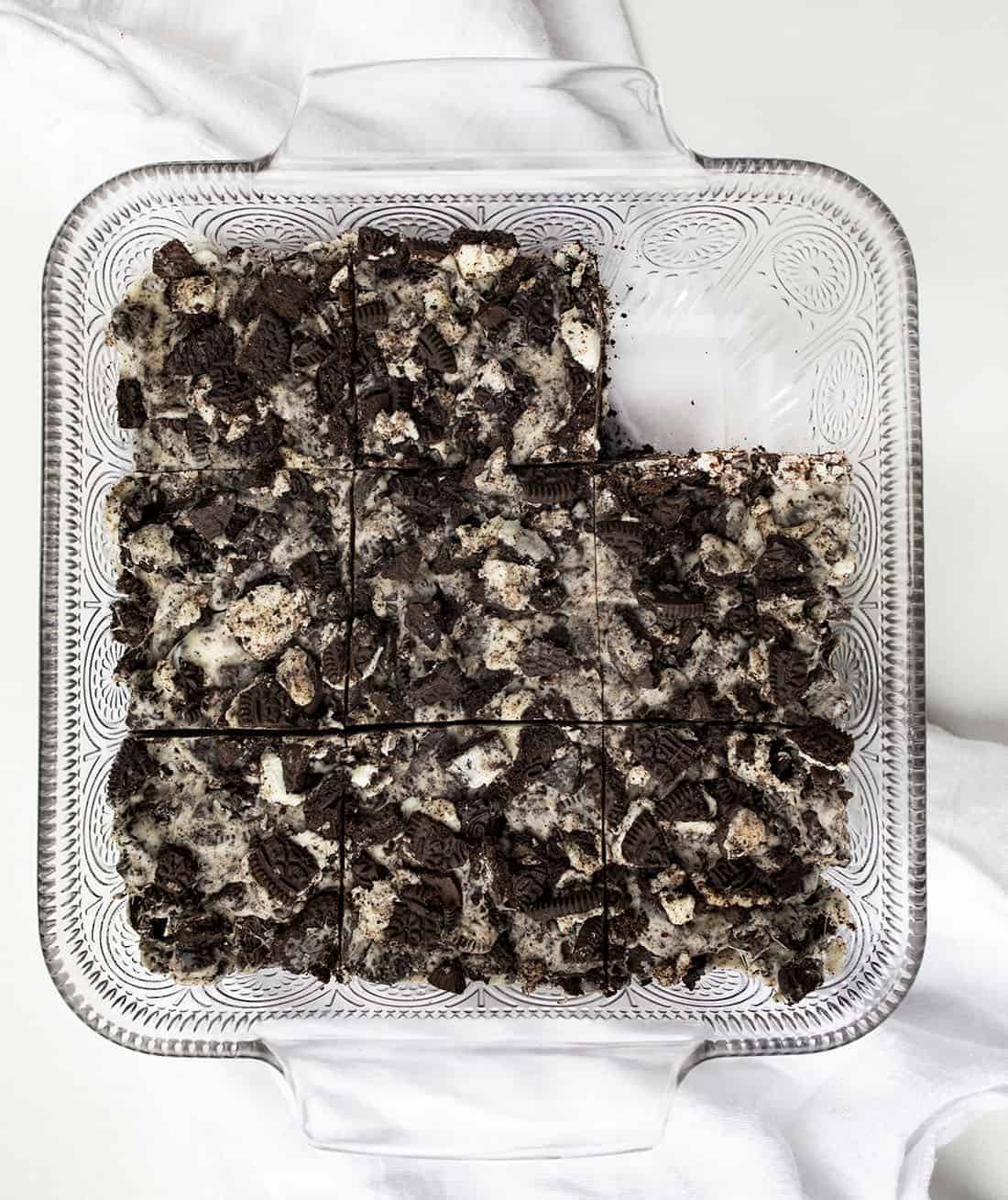 Can I Use a Different Size Pan?
I made the Oreo Bars in an 8×8-inch baking dish. You could use a 9×9-inch pan if that is the smallest you have on hand. The bars will be a little thinner, but I don't think anyone will complain; they will still be a tasty treat!
Can I Freeze Chewy Oreo Bars?
No, I would not recommend freezing these bars. The marshmallows in the dessert bars would not thaw well, resulting in a not-so-tasty treat. But, they are so easy to make, you could whip these up in no time when you are craving them or need a quick dessert.
No-Bake Apple Butter Cheesecake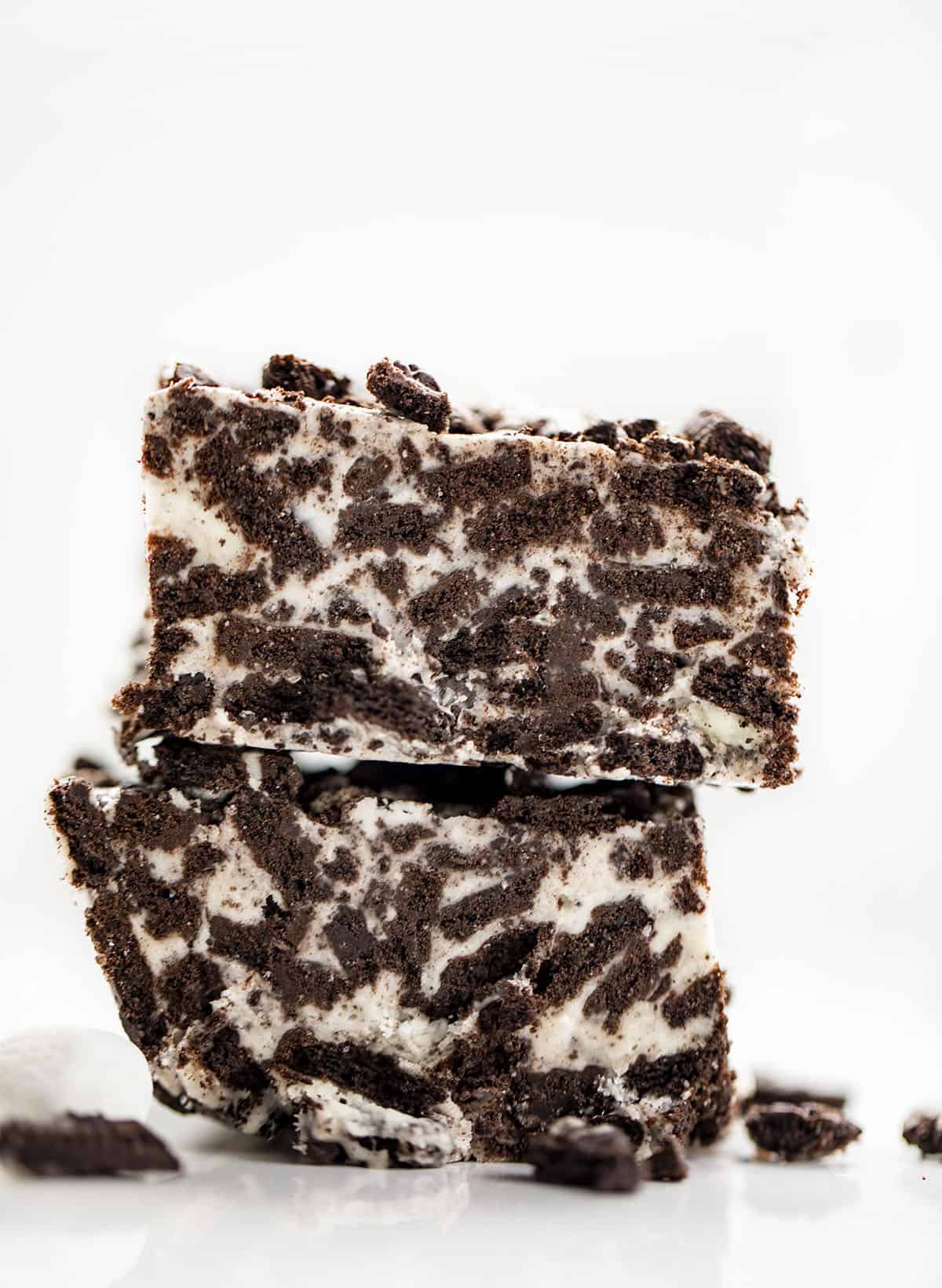 Ingredients
1

package

(16 ounces) double stuffed Oreos,

roughly chopped with ¼ cup reserved for topping

1

bag

(10.5 ounces) mini marshmallows

4

tablespoons

butter,

room temperature
Instructions
Spray an 8×8-inch baking dish with nonstick cooking spray or line with parchment paper. Set aside.

In a large microwave-safe bowl, combine marshmallows and butter.

Melt the marshmallows and butter in the microwave in 30-second intervals, stirring in between, until melted (about 2 minutes).

Add chopped Oreos (reserving ¼ cup for the topping) to the marshmallow mixture and stir.

Pour mixture into the prepared 8×8-inch pan and press into the pan with a spatula. Top with reserved chopped Oreo cookies.

Place pan in the refrigerator to set for at least 2 hours, up to overnight.
Nutrition