Rhubarb Cake is a soft, moist, and flavorful cake full of diced rhubarb and topped with granulated sugar that is simple to make and a dessert everyone will love! If you love baking with rhubarb, be sure to try my Rhubarb Bars next!
Rhubarb Cake
This Rhubarb Cake recipe was a recipe given to me by my friend, Elizabeth (who also gave me this Swedish Meatballs recipe). It was passed down from her grandmother, who got the recipe from a member of her church circle. It is a simple recipe to make, but it is a cake that never fails and the perfect dessert to make to use up all the rhubarb that grows in abundance around here!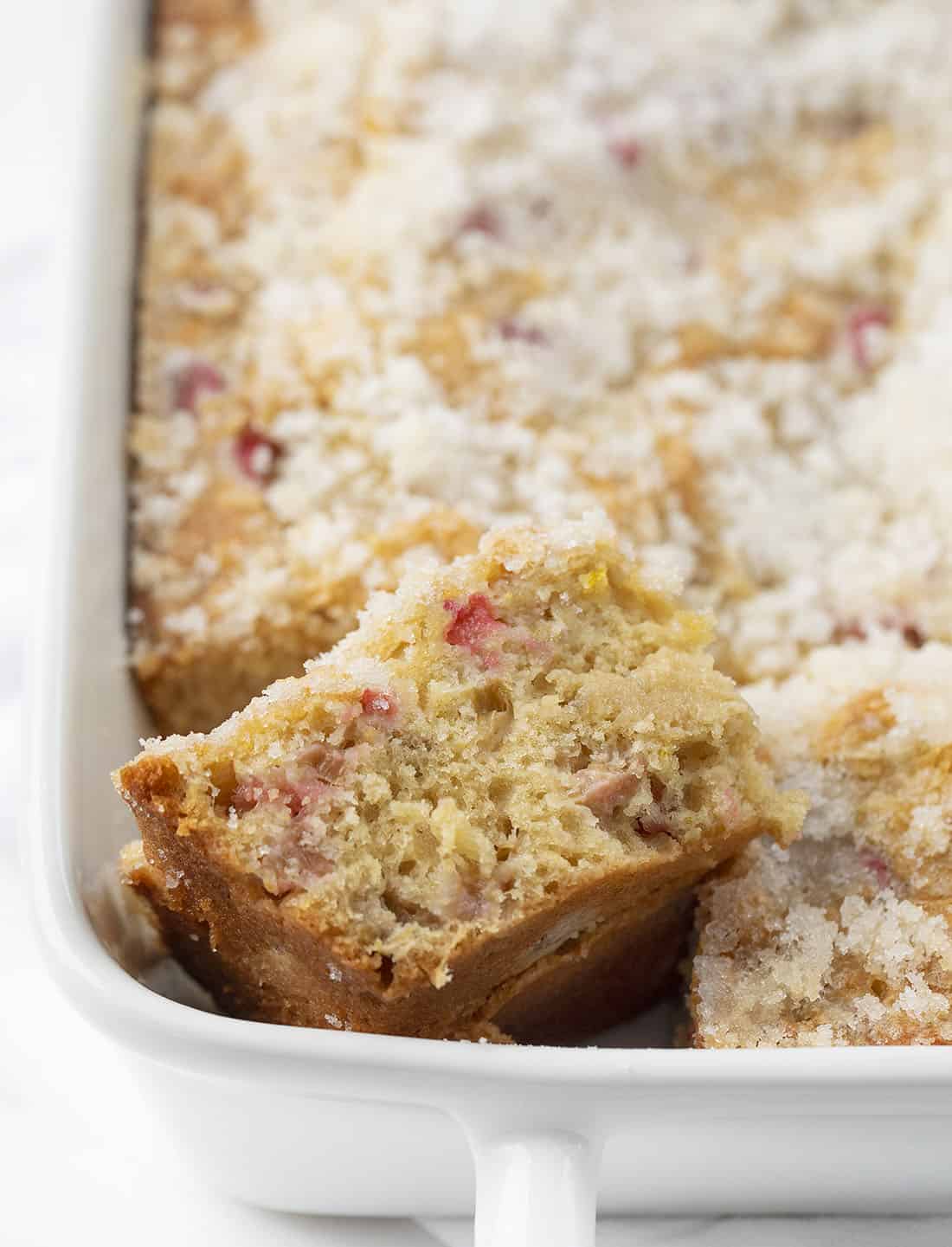 Rhubarb Cake Ingredients
Rhubarb: You will need 3 cups of diced rhubarb in this rhubarb cake recipe. For reference, a pound of rhubarb will yield about 3 cups when diced. You could also use frozen rhubarb.
Buttermilk: The original recipe called for 'sour milk', which is just milk with vinegar added. So, I used buttermilk instead. If you don't have any on hand, make your own buttermilk to use.
Topping: Just some sprinkled granulated sugar is all you need for the topping. It gives each bite a little extra sweetness.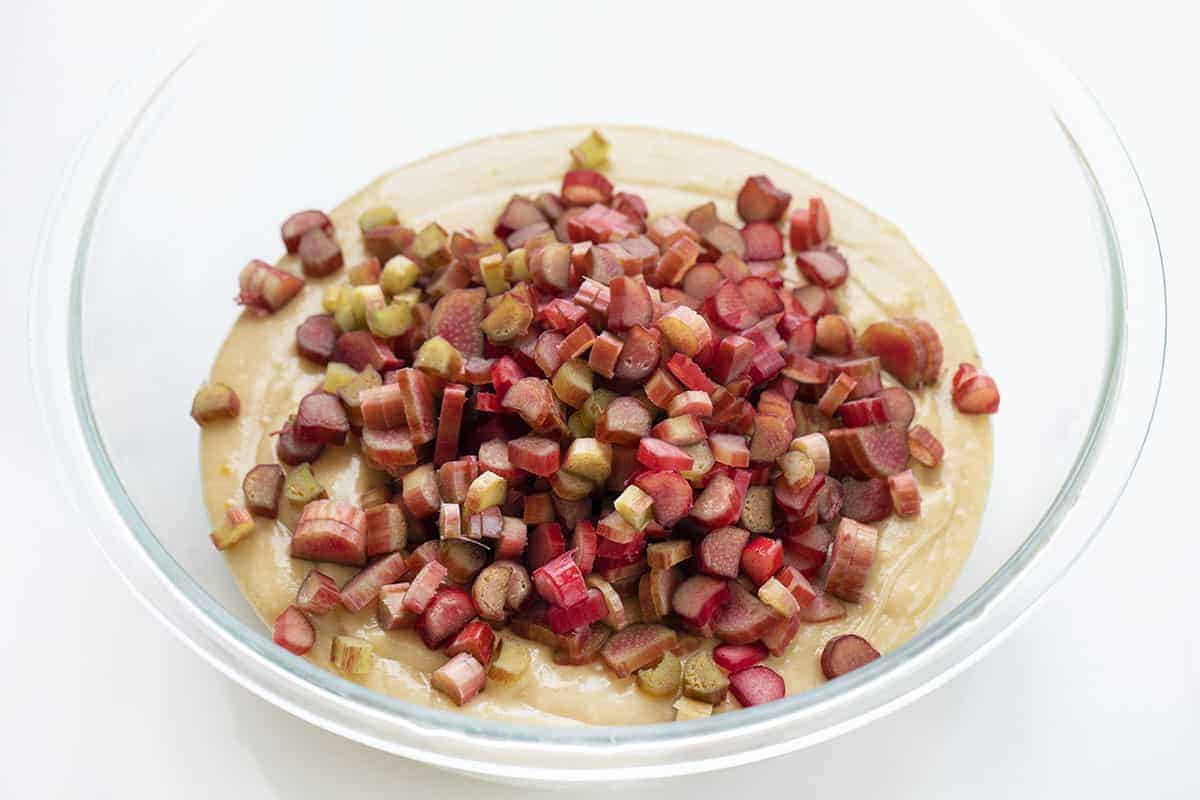 Let's Talk Rhubarb
The experts will recommend "choose stalks that are fresh looking, crisp and blemish free…look for smaller leaves, which is also an indication of a younger stalk. Avoid limp stalks and stalks with split ends." That's fine and dandy if you are aiming to be the next Martha Stewart, but not how we do it.
I don't look for perfection, I don't mind a few blemishes, and there is nothing wrong with a large leaf or a split end. You cut those off anyway! I've used big huge stalks and small stalks. They all add something amazing to whatever dessert you are preparing. All rhubarb is good rhubarb in these parts.
We have not tested this recipe with frozen rhubarb, but you can either let it thaw and drain before adding. Or, simply add the rhubarb frozen.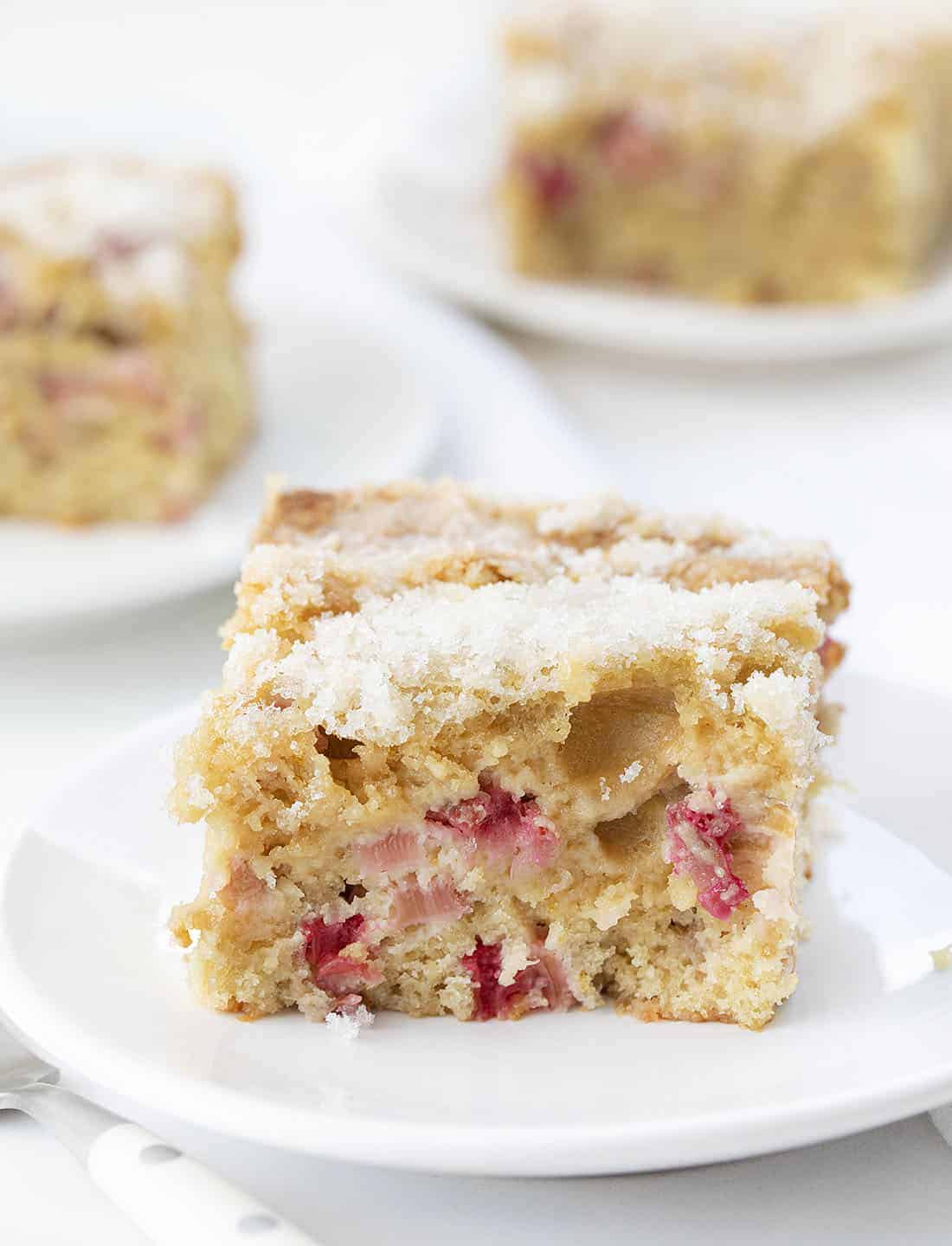 How to Make Rhubarb Cake
Again, this dessert is so easy to make and it is a hit with everyone who has tried it! I love the soft, dense texture of the cake. And, it is the perfect blend of tart (from the rhubarb) and sweet.
To get started making rhubarb cake, spray a 9×13-inch baking dish with nonstick cooking spray and preheat the oven to 350°F. In a large bowl, whisk together the brown sugar, vegetable oil, eggs, buttermilk, salt, baking soda, and vanilla. Next, stir in the flour. Finally, fold in the diced rhubarb.
Pour the batter into the prepared pan and top with the granulated sugar. Bake for 45-50 minutes. Let the cake cool for about 30 minutes before cutting and serving. I love it with ice cream, but it is also delicious plain or with homemade whipped topping! Store leftovers, covered, in the refrigerator for up to 3 days.
Can I Freeze Rhubarb Cake?
Yes! This is an easy dessert to freeze. And, it will still taste great after it has been frozen. To freeze the cake, double-wrap it in plastic wrap and store it in a freezer-safe container for up to three months. Be sure to label and date the container.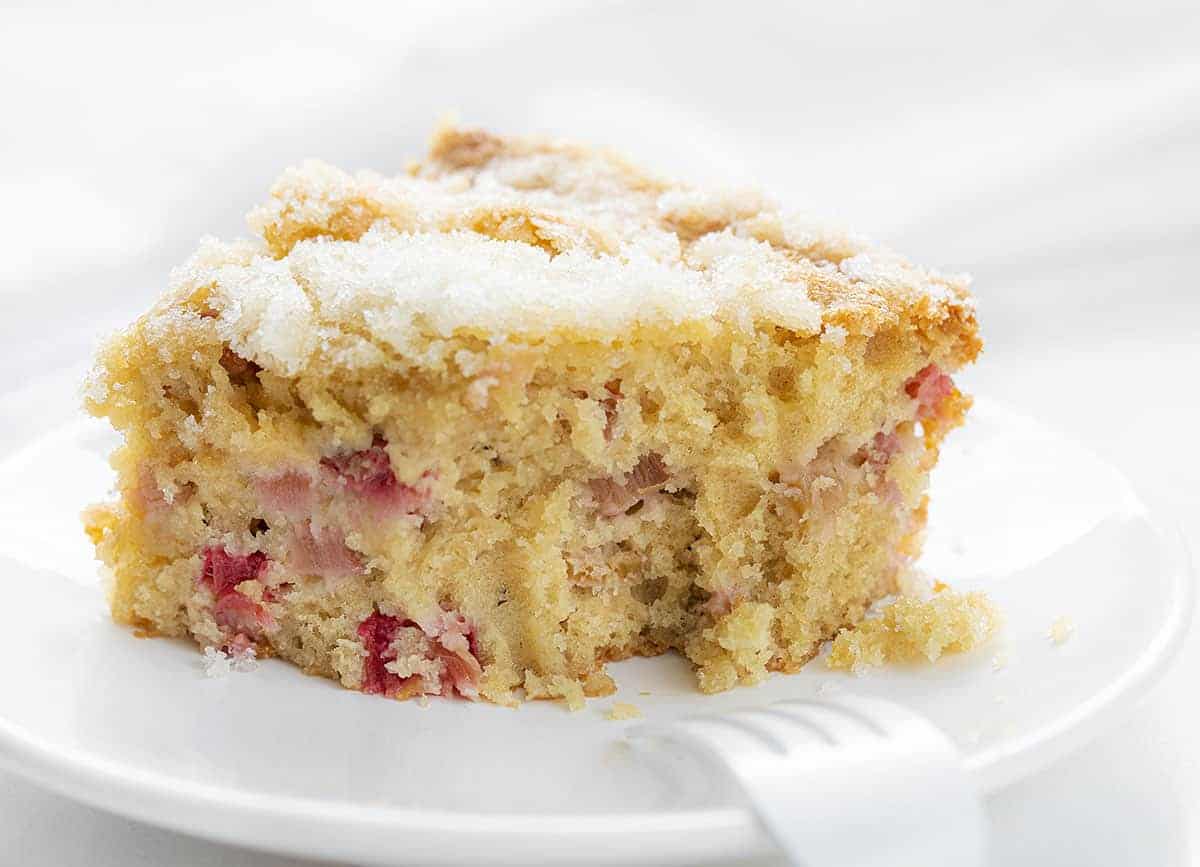 Looking for More Rhubarb Desserts?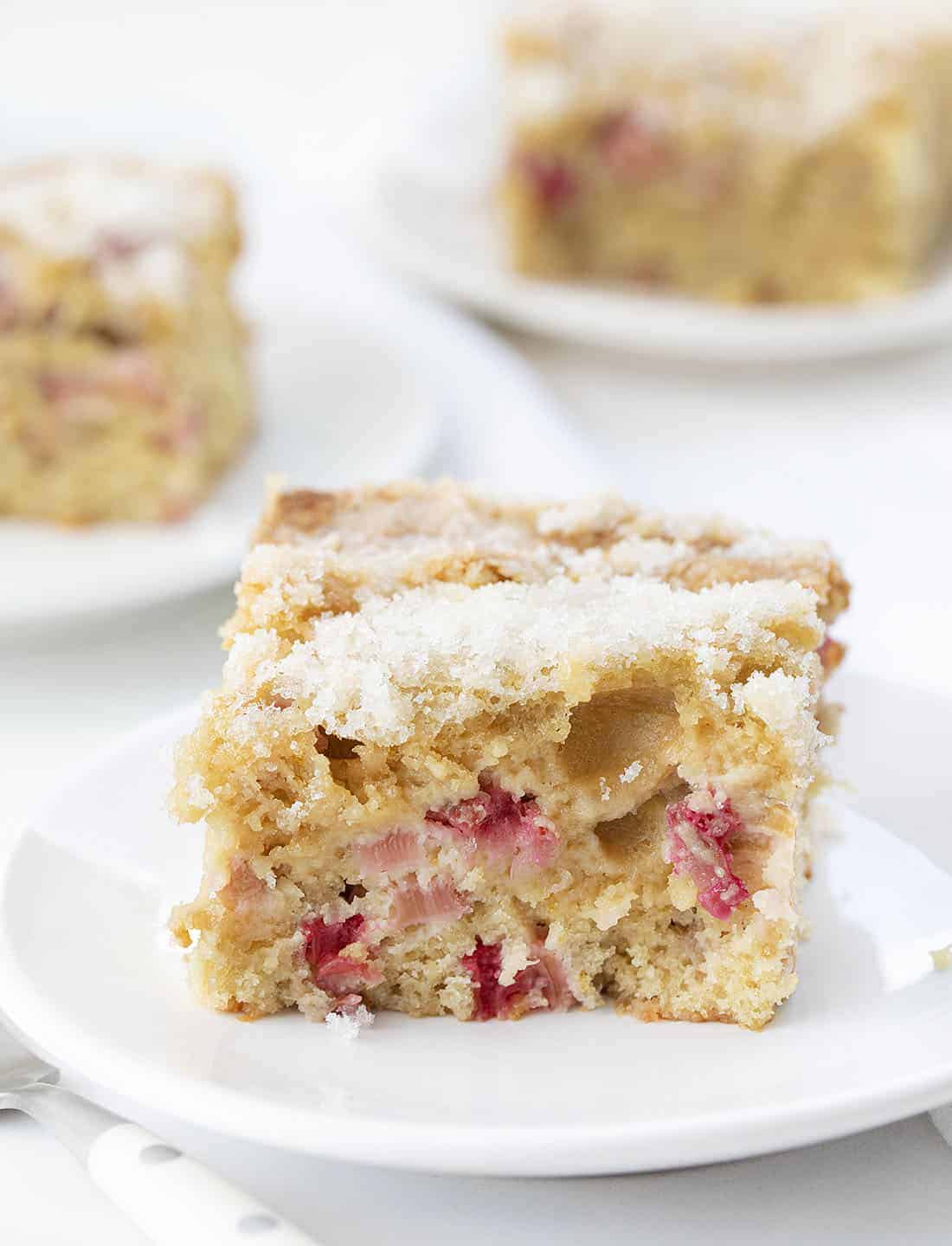 Ingredients
Cake
1½

cups

(300g) brown sugar,

packed

⅔

cup

(145g) vegetable oil

2

large

eggs,

room temperature

1

cup

(245g) buttermilk

1

teaspoon

salt

1

teaspoon

baking soda

1

teaspoon

vanilla

2½

cups

(312.5g) all-purpose flour

3

cups

rhubarb,

diced
Topping
¼

cup

(50g) granulated sugar
Instructions
Preheat oven to 350°F. Spray a 9×13-inch baking dish with nonstick cooking spray.

To a large mixing bowl, add brown sugar, vegetable oil, eggs, buttermilk, salt, baking soda, and vanilla. Whisk to combine.

Fold in diced rhubarb and pour the batter into the prepared baking dish.

Sprinkle the sugar over the top of the batter.

Let the cake rest for about 30 minutes before cutting and serving. Top with vanilla ice cream or whipped topping (optional).
Nutrition