By Reed Mangels, PhD, RD
Imagine a pair of spooky eyes staring up at you from a plate
of pale orange strands (or, could it be hair?), topped with red sauce. Then
picture "bones" to dip into more red sauce (blood?) and you have the makings of
a Halloween dinner.
Vegan Eye Balls (Adapted from Vive le Vegan! By Dreena Burton)
(makes 18
balls)
7 ounces
firm or extra-firm tofu, torn or cut into pieces
1 Tablespoon
cider vinegar
1 Tablespoon
reduced sodium soy sauce
1½ Tablespoons
catsup
1 teaspoon
minced garlic (or to taste)
1 teaspoon
oregano
1 Tablespoon
nutritional yeast flakes
1 Tablespoon
olive oil plus additional oil for baking sheet
Pepper to
taste
1½ cups
breadcrumbs
½ cup
quick-cooking oats (uncooked)
18 pitted olives (pimiento stuffed olives are a nice
touch, but black or green olives would also work)
Preheat oven
to 375 degrees Line a baking sheet with parchment paper and drizzle on a little
olive oil. In a food processor, purée tofu until smooth. Add remaining
ingredients except breadcrumbs, oats and olives and process until smooth.
Transfer mixture to a bowl and stir in breadcrumbs and oats. Let sit for 5
minutes to firm up. The mixture should hold together – add more breadcrumbs if
necessary.  Form mixture into balls about the size of
a golf ball, carefully pressing an olive into each ball, and place on
the baking sheet, olive facing up. Bake for 20-25 minutes until golden.
Spaghetti
Squash
You can
start baking this while you prepare the "eye balls." Cut a spaghetti squash in
half lengthwise and place cut-side down on a parchment-lined baking sheet. Bake
at 375 degrees for 30-45 minutes, until squash is soft. Remove from oven and
let cool enough to handle. Remove seeds. Use a fork to comb through the squash,
separating the strands. Place the strands in a serving bowl.
Top the
spaghetti squash (or you can use regular spaghetti) with pasta sauce (homemade
or your favorite vegan brand) and then add a couple of "eye balls."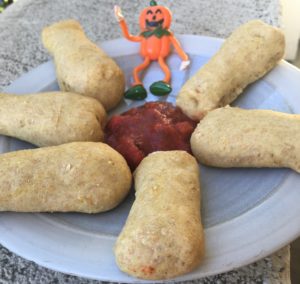 Breadstick "Bones" (Adapted from The Farm Vegetarian Cookbook, edited by Louise Hagler)
(makes 15 small breadsticks)
1 teaspoon
vegan sugar
1 Tablespoon
baking yeast         
6 Tablespoons
warm water
1 Tablespoon
olive oil
1 cup
all-purpose flour
½ cup wheat
flour
½ teaspoon
salt
2 Tablespoons
nutritional yeast flakes
In a medium
bowl, combine sugar and baking yeast and add warm water. Stir and let proof for
5 minutes. Add olive oil, all-purpose flour, wheat flour, salt, and nutritional
yeast and stir, adding water or flour to make a smooth dough. Knead dough for 5
minutes. Form dough into relatively thin bones shapes (or just make thin
breadsticks), place on a parchment paper-covered baking sheet, and let rise for
an hour. Preheat oven to 400 degrees. Bake for 9 minutes or until done. Serve
with a small bowl of pasta sauce for dipping.
Happy Halloween!